Digital Adspend grows by a record 40% in the first half of 2014
Total Online Advertising reaches €130m
Mobile adspend is now 29% of total digital spend
The H1 2014 IAB PwC Online Adspend Study sees record growth of 40% in the Irish digital advertising market with a total digital spend of €130m.  Mobile adspend now accounts for 29% of total online adspend. The very strong performance of digital adspend contrasts with adspend on other media which grew by less than 1% (0.7%) during the same period (Nielsen: January to June 2014).
Digital Advertising Formats
Display advertising grew by 34% to €45m in the first half of the year, Display now represents 35% of total digital spend. Spend on VOD advertising grew by 75% to €7m reflecting brand advertiser's strong commitment to this format. Social Media Display also saw particularly high growth from €6.4m in H1 2013 to €10.7m in H1 2014, a growth of 67% year on year.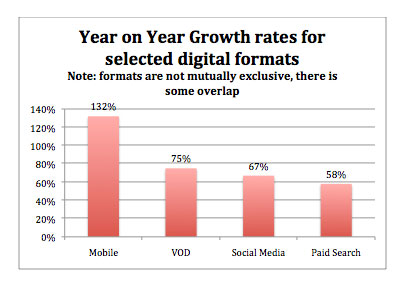 Paid-for-Search advertising has grown by 58% yoy and remains the dominant digital format with a 54% share of total online adspend at €71m. This very strong  growth is driven by the  ongoing increase in both volume and value for PPC bids in the Irish market.
Classified advertising online continued to perform strongly in 2014, holding a 11% share of online adspend at €14m.
Finance is the top advertiser category in Desktop Display Spend
Finance is the top spending category in desktop Display spend with a category share of 15% of display spend.  FMCG and Retail hold joint second position at 13%, followed by Telecommunications at 10%.
Irish Mobile Adspend (Smartphone and Tablets)
Reflecting the global growth trend in Mobile adspend the Irish market experienced 132% growth in mobile advertising to €37m in the first half of the year. Mobile Search accounts for 77% of total mobile spend with Mobile Display advertising representing a 23% share.  FMCG and Entertainment and Media share poll position as the top-spending categories on Mobile Display accounting for 15% respectively. Finance and Retail share joint second position with a 12% share respectively.
Key Drivers for growth:
1)    Growth of digital consumption
85% of Irish Adults have access to digital devices that can be used "on the go" up from 79% in 2013 (Eircom eHSS report Sept 2014).
Smartphone penetration is at 64% (Eircom eHSS report Sept 2014).
Tablet ownership has almost doubled in the last 12 months from 25 to 41% (Eircom eHSS report Sept 2014).
Internet usage has soared by 75% year on year fuelled by the growth in mobile and tablets as well as digital content consumption (Inex February 2014).
2) Irish Marketers growing online budget
60% of Marketing Managers plan to grow their digital budgets (MC Squared/Amarach 2014).
Further growth predicted for Online Adspend:
PwC predicts 12.2% growth per year (CAGR) in Irish digital adspend during the period 2014 – 2018 (PwC Global Entertainment and Media Outlook 2014-2018).
Media agencies Vizeum/Carat and Mindshare forecast a growth of 15% for digital adspend in 2014 with Core Media predicting a growth of 12% in the next 12 months.
Commenting on the study results Suzanne McElligott, CEO of IAB Ireland, said: " 2014 marks a paradigm shift in advertising in the Irish market with a record 40% growth in digital adspend. This dramatic growth mirrors the growing appetite of the Irish consumer for digital devices, digital media and in particular digital video across all screens – big and small".
"Almost €1 in every €3 of digital adspend is now on mobile advertising and with the anticipated further growth in mobile usage and content mobile advertising must now be the first screen Irish advertisers engage to communicate with their consumers" she added.
Ends
For further information please contact: Maeve O'Meara, Marketing Manager, IAB Ireland, 086 852 2291, maeve@iabireland.ie
Notes to Editors
Background to the study
•    The IAB has been working with PwC since 1997 to survey the value of online adspend in Europe and North America.
•    31 leading publishers participated in the study, many of whom represent multiple websites. Other participants include sales houses and advertising networks.
•    Participating publishers were selected on the basis of traffic data and market knowledge. We estimate that our study accounts for 90% of online adspend. Reported figures are not adjusted to account for other organisations that have not participated.  Participation is on a voluntary basis.
•    Total advertising revenue is reported on a gross basis (i.e. including agency commission).
•    Adspend revenue is drawn up on the basis of actual figures provided by study participants.  All data was provided to PwC on a confidential basis.  The data is prepared by PwC based on the figures provided by participants, which have not been verified or audited by PwC.
•    Google, Twitter and Facebook do not break out their earnings from Irish advertisers. Instead PwC in conjunction with IAB created an independent estimate of their revenue from Irish advertisers, by extrapolating from spend data provided directly by a representative sample of their clients.
•    RTÉ do not submit data to the IAB PwC Adspend Study, RTÉ's digital adspend as reported in RTÉ's most recent annual report is included in the study.
About IAB Ireland
IAB Ireland (www.iabireland.ie) is the trade association for the Irish online advertising industry. As a not for profit organisation IAB Ireland works with members to ensure marketers can identify the best role for online in building their brands. IAB Ireland is licensed by IAB US and is a member of the IAB Europe network. The IAB network shares three core objectives, namely to prove, promote and protect the online advertising industry. These objectives are fulfilled through the dissemination of authoritative research, the organisation of educational events and by promoting industry-wide best practice.
About PricewaterhouseCoopers
PwC (www.pwc.com/ie) provides industry-focused assurance, tax and advisory services. More than 161,000 people in 154 countries across the PwC  network share their thinking, experience and solutions to develop fresh perspectives and practical advice for clients.