IAB CONNECT 2016 – Digital Revolution: the connected consumer
Thursday 14th April, 2016, Guinness Storehouse, Dublin 8 (8.30 to 1pm)
With 2016 a significant year in the history for Ireland, IAB Connect 2016 will take a look at the state of digital in Ireland and globally.   In a consumer-centric world where consumers are always-on, we will explore the exciting range of digital advertising game changers that are both disruptive and incredibly rewarding for brands.
IAB Connect 2016 Agenda
8.30-9.00
REGISTRATION
9.00-9.25
DIGITAL REVOLUTION: THE CONNECTED CONSUMER LAUNCH OF IAB PWC ONLINE ADSPEND STUDY FOR 2015 & UPDATE ON IAB GLOBAL & LOCAL 2016 INITIATIVES  

Suzanne McElligott, CEO, IAB Ireland

9.25-9.45
DIGITAL STORYTELLING – STORIES THAT RESONATE
Brian Horgan, Development Director, Abbey Theatre
9.45-10.05
MOMENTS THAT MATTER
Mark James, Director, MEC
10.05-10.25
NATIVE: ONLINE ADVERTISING DONE PROPERLY?
Adam Foley, Commercial Strategy Director, Guardian Media
10.25–10.50
AN IRISH PROGRAMMATIC CASE STUDY FROM NESTLE
Philip McCabe, Country Brand Leader Nutrition & Digital Lead Nestle Ireland
10.50-11.15
Tea /Coffee Break – KINDLY SPONSORED BY MEC
11.15-11.35
THE E-COMMERCE REVOLUTION – THE OPPORTUNITIES OF DIGITAL FOR A LEAN START-UP ECOMMERCE PLATFORM
Jennie McGinn, CEO, OPSH
11.35-11.55
MAKING DATA WORK – CREATIVE MESSAGING AND ATTRIBUTION MODELS
Alex Timbs, Head of Data and Attribution, AOL
11.55- 12.15
HOW TO STRIVE AND THRIVE IN THE AUDIO PROGRAMMATIC ECOSYSTEM
Benjamin Masse, Market Development & Product Strategy, Triton Digital
12.15-12.40
THE BRANDED CONTENT REVOLUTION
Trevor Daly, Director of Brand Strategy, MADE by Maximum Media

Hayley O'Connor, PR Manager, Ladbrokes

12.40-12.45
CONFERENCE CLOSE – LUNCH TO GO SPONSORED BY MEC
Please note, agenda is subject to change.
See the speaker biographies at the bottom of this page.
Mark Little, (then CEO) of Storyful, spoke at last year's IAB Connect conference at the Guinness Storehouse. For an overview of the quality of content and speakers this event offers, view our IAB Connect 2015 event archive, for speaker presentation downloads, image gallery and more!
With thanks to our sponsors:
Platinum 

Gold: 

Media Partner:
IAB Connect 2016 Speaker Biographies
Adam Foley, Commercial Strategy Director, Guardian Media

Adam Foley is the Commercial Strategy Director at The Guardian, having recently joined from Starcom Mediavest Group where he was Managing Partner of Strategy, creating industry recognised work across brands as diverse as Heineken, BT, Warners Music and Capital One. When not at work, he's a proud Dad and slightly less proud author and film-maker.
Alex Timbs, Head of Data & Attribution, AOL 
Alex is responsible for the International data strategy, covering areas such as AOL's DMP, 3rd party data partnerships, in addition to the Convertro business for International, AOL's unified MMM+MTA attribution platform. Prior to his current role, Alex was responsible for the commercial product strategy for programmatic, mobile and cross screen offerings, as well as premium formats and video. He has over 12 years' experience in online advertising, and in providing global business solutions.  Previous to this AOL, Alex held roles such as Head of Technology & Platform Sales, and Technical Services Director, over an 8 year period at performance and search marketing specialist TradeDoubler.
Benjamin Masse, Triton Digital 
Benjamin Masse is a recognized programmatic advertising technology and interactive applications pioneer with more than 15 years of experience. Over this period, Benjamin has established synergies between business stakeholders and software development teams, delivering consistently innovative products.  As SVP and GM of Advertising at Triton Digital, he spearheads product strategy and development for a2x (Triton's programmatic audio advertising exchange) and Tap (Triton's audio publishers ad server), products which monetize digital content for media companies and unleash advertising efficacy for media buyers. Benjamin holds a MSC in Anthropology and Post-Graduate Diploma in Entrepreneurship and Management. As an accomplished musician, he fully appreciates the growing importance of connecting business, technology, and culture.  Benjamin currently resides in Brooklyn with his family.
Brian Horgan, Development Director, Abbey Theatre
Brian Horgan is Development Director in Ireland's national theatre the Abbey Theatre.  His role is to share the Abbey Theatre story with both individuals and corporates. This storytelling opens the door to opportunities for people/companies to become a part of the future of this world recognised theatre while also helping their own goals and dreams. Prior to this Brian's background was in consultancy working with top of their field brands such as the Royal Dublin Society, Ulster Bank, SIMS and digital agency: Webfactory among others. He specialised in creating and implementing customer experience strategies that motivated employees, helped staff retention and drove income. In addition he is also a performer. As a singer and songwriter he has  done shows on the Peacock stage at the Abbey Theatre and in New York as an invited guest of the New York Foundation for the Arts (NYFA).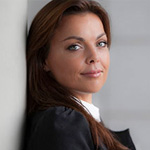 Hayley O'Connor  BSc (Hons)
After working in the thoroughbred industry internationally, in America, New Zealand and Australia, Hayley embarked on a career in communications spanning the past decade. For the past seven years, she is the PR and Communications Manager of Ladbrokes in Ireland. She is passionate about sports, science, horse racing and the arts. She owns and breeds racehorses and is an artist in residence in La Catedral Studios in the Liberties, Dublin.
Jennie McGinn, CEO, OPSH
Jennie Mc Ginn is CEO and Co-Founder of Opsh.com alongside her two sisters, Sarah and Grace. "Skyscanner for Fashion" – Opsh brings together all your high street fashion brands in one marketplace with one account and checkout. The team are serial entrepreneurs having founded successful shoppable magazine Prowlster through the NDRC Launchpad programme. Opsh is growing as fast as Asos did in the early days, has Sir Philip Green's stepson as the lead investor and has recently won a position in the Microsoft Ventures London programme and is set to be the hottest retail start-up in the UK. Jennie is an alumni of UCD, DCU and the London College of Fashion with a background that spans film, art, tech, youth work and non-profit.
Mark James, Director, MEC Ireland
Mark has worked on most categories of advertising business in London, Manchester and Dublin. During his time in those cities he has worked for top media agency networks, Zenith Optimedia, Universal McCann, Mindshare, Carat, and now MEC Ireland where he heads up the Vodafone Ireland account. He has been involved in the Digital space since the early days of web marketing and strongly believes in the adaptive role of good media agencies, their strength in delivering transformative Digital strategies, and their ability to create real momentum for their Clients' businesses. Mark will talk at the event about the 'Moments that Matter' and how they are changing.
Philip McCabe, Country Brand Leader, Ireland, Nestle Nutrition UK & Ireland
Philip McCabe has been a marketer for many years and has spent much of his career bridging the gap between digital marketing and more traditional channels. He is the Country Brand Leader for Nestle Nutrition in Ireland looking after the SMA Nutrition portfolio of products. He is also the Digital Lead for Nestle Ireland, co-ordinating the cross pollination of digital best practices among Nestle's different businesses in Ireland. Prior to this he held a number of commercial positions within Philips internationally including European Marketing Manager for Philips Lamps Europe based in The Netherlands. He returned to Ireland as Country Manager for Philips Domestic Appliances and later went on to be Marketing Manager for Philips Consumer Lifestyle before joining the SMA Nutrition team first as part of Pfizer Ireland and now within Nestle Ireland. He originally studied Building Services Engineering before completing his Marketing Degree. He also has a Master's Degree in Digital Marketing.
Trevor Daly, Director of Brand Strategy, MADE by Maximum Media
Trevor Daly is Director of Brand Strategy with MADE by Maximum Media, the digital publisher's new in-house branded content division. At the helm of MADE, Trevor is charged with leading all planning and execution of brand advertising and marketing strategies, as well as best in class client relationship management for some of the UK and Ireland's largest brands. Prior to this role Trevor worked as an Account Director at leading advertising agency Target McConnells where he led the strategic planning on the Vodafone and Topaz accounts. Trevor specialises in strategic planning,  digital marketing, advertising strategy, project management and production. He has worked on multiple national brand communication campaigns for Guinness, Guinness Storehouse, Topaz, Vodafone and Tesco across the entire marketing and advertising spectrum.